The Programme took part in the seminar "Competitive Europe – joint platform of cross-border cooperation"
Ms Irena Putnina, Consul of the Consulate of Latvian Republic in Pskov, opened the seminar "Competitive Europe – joint platform of cross-border cooperation". Introductory words were given by the representatives of the Ministries of Foreign Affairs in Latvia and Russia, Mr Andrey Grinashko and Mr Sergey Jefimenko respectively.





Ms Irena Putnina told about the priorities of the Presidency of Latvia in the Council of the European Union stressing on the relations development with the countries of Eastern Europe and digital commerce around Europe.


                           



The Head of the Joint Technical Secretariat of the Estonia-Latvia-Russia CBC Programme within ENPI 2007-2013, Ms Unda Ozolina, has presented the results of the Programme. More than 58 million euros were allocated to projects implementation and the biggest number of partners involved in projects' implementation is from Pskov region - 42 organizations. In general there were 234 objects reconstructed, 8 entrepreneurship initiatives started, 22 objects of historical heritage renovated, 294 joint activities and events hold within the Estonia-Latvia-Russia CBC Programme.


 

Mr. Andrey Mikheev, the chairman of the State committee on economic development and investment policy of the Pskov region, summarized outputs and results of 25 projects realized in Pskov region within Estonia-Latvia-Russia Programme from 2011 which go in line with the directions of Pskov region development such as tourism, logistics, preservation of historical and cultural heritage, social sphere.


                            



Many participants of the seminar were representatives from partner organizations involved in the implementation of the projects of the Estonia-Latvia-Russia Programme. They have told about the project aims and presented achieved results, as well as stressed the sustainability of cooperation.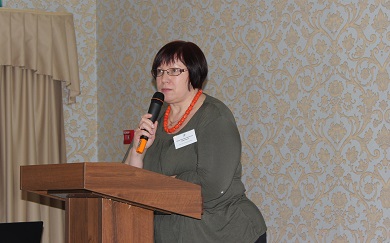 Following the presentations key participants of the seminar discussed the development perspectives of the Cross-Border Cooperation Latvia-Russia Programme 2014-2020.


Anna Skabireva, Senior Expert of Territorial Cooperation Division, Development Instruments Department, Ministry of the Environmental Protection and Regional Development, reported about the confirmed priorities and measures elaborated during JPC meetings for Latvia-Russia CBC Programme within European Neighbourhood Instrument 2014-2020.


                           



Representatives from Planning regions of Latvia such as Vidzeme, Latgale and Pieriga presented their regions and main development aspects addressed on cooperation with Pskov region.


 



There was also presented Zemgale as the new region included in Latvia-Russia Programme.


 



All participants expressed their willingness to develop and strengthen cooperation between Latvian and Pskov regions.

More about the seminar "Competitive Europe – joint platform of cross-border cooperation":

http://www.mfa.gov.lv/pskov/aktualitates/45046-pleskava-uzsver-latvijas-krievijas-parrobezu-sadarbibas-projektu-nozimibu

http://www.gtrkpskov.ru/news-feed/news/9379-v-programme-prigranichnogo-sotrudnichestva-estoniya-latviya-rossiya-prinyali-uchastie-bolee-40-organizatsij-pskovskoj-oblasti.html

http://www.pskov.ru/novosti/25.02.15/54141


Events calendar

December 2023
27
28
29
30
1
2
3
4
5
6
7
8
9
10
11
12
13
14
15
16
17
18
19
20
21
22
23
24
25
26
27
28
29
30
31