T&L: Academic staff of Project partners took part in Study Visit to Frankfurt Automotive Industry Fair AUTOMECHANIKA 2014
On 17 - 21 September a group of teachers from Malnava College and Academic Park (Latvia) and Pskov Agrotechnical College (Russia) took part in a study visit to automotive industry fair Automechanika 2014, held in Frankfurt-on-Main (Germany). The study visit was one of the activities aimed at raising the qualification of academic staff within Motor Vehicle vocational education program. This visit has become a part of intensive training courses in Motor vehicles, Logistics, Distance learning tool, Welding in various environments based on latest technologies, engine systems, automotive diagnostics, exploitation, and repair organized for the teaching staff in August and September 2014. Besides, Malnava College has started the new school year with improved study program in Vehicle Transport in order to be able to meet the current requirements of labour market and latest technologies. Malnava College has also equipped Motor Vehicle electronics testing laboratory.

The participants of the study visit share the opinion that the information gained during the Automotive Fair Automechanika 2014 is valuable and they will use it in their professional work, teaching students of Vehicle Transport vocational education programme. Especially they emphasized such fields as autotronics, electronic devices and systems, equipment for diagnostics of electronics. Another important benefit is information on latest technologies in service and repair of car bodies, sample demonstrations, and technologies for technical service, maintenance and repair of motor vehicles.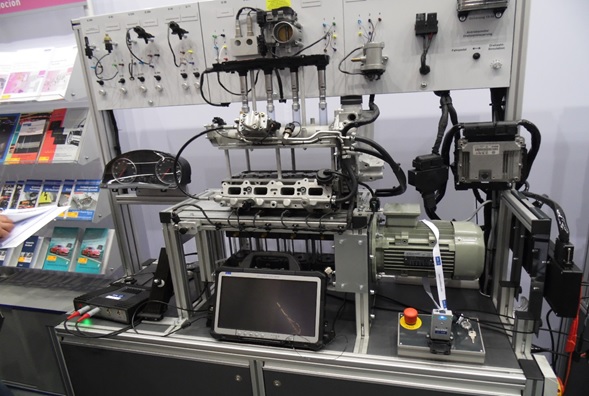 The fair was interesting with "green technologies" and e-mobiles. The increasing tendency of e-cars and market offer is obvious, in the coming years their market-share is likely to increase essentially. A special exhibition hall was devoted to future cars with presentations of alternative car concepts. In education too, skills in service and repair of traditional cars should be supplemented with new knowledge about the peculiarities of maintenance of e-cars. Another feature of the fair this year was car electronics, and this is indicating new market tendencies.

The participants of the study visit attended expositions, stands, car show, shared latest tendencies in automotive industries, innovations, and products (spare parts, equipment for diagnostics and repair, IT products and services, car accessories and tuning). In total, 4631 companies from 71 countries all over the world were exposed at the exhibition. 140 000 visitors attended the fair.


Full text of Project press-release with participants' feedback.

Information is prepared by Inese Kursīte, kursite_inese@inbox.lv
Events calendar

December 2023
27
28
29
30
1
2
3
4
5
6
7
8
9
10
11
12
13
14
15
16
17
18
19
20
21
22
23
24
25
26
27
28
29
30
31