Narva-Ivangorod LSP6: Narva-Ivangorod fortresses ensemble welcomes visitors
Narva City Government, Department for City Development and Economy together with "Museum Agency" of Leningradskaya Oblast successfully implemented a large scale project "Development of the unique Narva-Ivangorod fortresses ensemble as a single cultural and tourist object".   


 



Project implementation started in May 2012 and was concentrated on Victoria bastion and Powder Cellar restoration and creation of historical exposition in its casemates in Narva (Estonia), as well as the quadrangular fortress of 1492, the oldest part of Ivangorod fortress, conservation,  the Small Powder Granary reconstruction and exposition creation were  planned in Ivangorod (Russia). All project activities were successfully implemented and objectives of the project were achieved in full.






In December 2015 opening events took place  in Narva  and Ivangorod.  Honored guests from Russia, Estonia and Latvia, tourists companies and mass-media representatives took part in opening events. All of them estimated the value  of new tourists objects for border regions very highly. Certainly, both  objects are important tourist attractions and source of local inhabitants pride. From beginning of January 2016  "Victoria bastion casemates" and   Small Powder Granary  work regularly: excursions and events are carried out, promotional marketing is implemented,  new services on the base of tourists objects are developed. Additional information about  services is available  here:   http://bastion.narva.ee/  and  http://www.lenoblmus.ru/museum/ivangorodskiy/ambar/#tab  




Project "Development of the nique Narva-Ivangorod fortresses ensemble as a single cultural and tourist object"  has been co-financed by the Estonia-Latvia-Russia Cross Border Cooperation Programme within European Neighbourhood and Partnership instrument 2007-2013. Total budget of the project is about 6,4 million EUR. Programme co-financing is about 5,7 million EUR including co-financing from the State Budget of Estonia about 1,8 million EUR.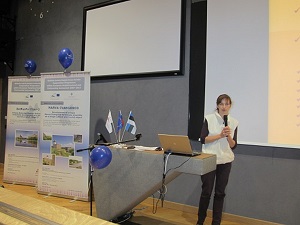 Information prepared by Anna Karina, Project Manager, Department for City Development and Economy, Narva City Government, Estonia  e-mail: lsp6@narva.ee