LANDSCAPE PEARLS: Glamorous Festivals in Pavlovsk Park and Aluksne Manor Park
In the end of summer the inhabitants and guests of Aluksne, Latvia, and Pavlovsk, Russia, had a chance to enjoy two wonderful festivities arranged with participation of the cross-border cooperation project "Two pearls of landscaped parks in Eastern Europe" (LANDSCAPE PEARLS).
XIV International Festival of floral and landscape art "Imperial Bouquet" was held on July 26-27, in the State Museum "Pavlovsk" (St. Petersburg, Russia).
The Festival presented the works of 34 masters of floristry from St. Petersburg, Moscow, Samara, Kazan, and the Netherlands, whose thematic floral installations and bouquets were spread over 11 venues of the Pavlovsk Park, including Parade square, Private Garden, Temple of Friendship, Rose Pavilion, Round Room, Large Circles, Monument to Maria Feodorovna, Cast Iron bridge and Centaurs bridge.
The festival program included a lot of bright and memorable events: a large children's bicycle parade in the opening ceremony of "Imperial Bouquet", parade and show of drummers, catwalk of models dressed in floral dresses, classical music concerts performed by opera singers and instrumental orchestras, ballet flower show featuring dancers of the Mariinsky Theatre and master classes by leading florists.
On the main stage of the Festival - on the Parade square at the Pavlovsk Palace, the moderator in his speech informed about the sponsors and partners of large-scale events and the story of significant event - the restoration of the Grand Cascade in Pavlovsk park within the cross-border project "Two pearls of landscaped parks in Eastern Europe" (Landscape pearls), which is carried out within the Estonia-Latvia-Russia CBC Programme of the European Neighbourhood and Partnership Instrument 2007 – 2013.
Festival "Imperial Bouquet" was attended by over 22 thousand people – residents of Saint-Petersburg Region, the regions of the Russian Federation and foreign guests. 
These and many more photos of the event can be veiwed at the
website of Project Partner
- State Museum "Pavlovsk" 
Aluksne Manor Park Festival full of various wonderful events was a part of Aluksne Town Festival "Reflections sparkles in Aluksne" and took place on 2 August.
The main venues of the event were Aluksne New Castle and Aluksne Manor Park. Celebrations began with homemade goods market and the local amateur artists - Aluksne town Culture house dance ensemble "Jukums" and Ernst Glick Aluksne State Gymnasium brass band performances. For the first time in Aluksne the participants had an opportunity to see and hear the "moving piano" or Orchestropheda - specially designed platform holding piano and other musicians. The band on the platform and around it played while moving along the streets.
Another special event of the Festival was a march of Aluksne families "Children - reflection of parents", at the end of which Aluksne residents born in 2014 were greeted. During musical performance of Nikolay Puzikov winners and participants of Aluksne municipality competition "Tidy up, show, be proud" were awarded.
In Aluksne Manor Park visitors of the Festival were able to participate in orienteering activity "Get to know the park" and in several creative workshops, to play croquet, try their hand in archery or watch mime performances. Park musicians were playing in the open air and everyone had an opportunity to listen to a concert of young singers – Davis Mazurenko and Elizabete Skrastina.
Throughout the day in the Aluksne museum there were various exhibitions and movie screenings - "Aluksne New Castle complex then and now," film by Gunars Ozolins "One Summer", film by Vesma Kokle - Livina "Full Moon Night", as well as 11 episodes about Aluksne from Latvia State Archive of Audiovisual documents.
As Aluksne Manor Park Festival was held within the project "Two pearls of landscape parks in Eastern Europe" the moderator of the Festival informed visitors about the Festival organizers, the main of which were Aluksne municipality and Estonia – Latvia – Russia Cross Border Cooperation Programme.
Evening continued with a ball together with the band "Mazā Parīze" and singers - Diana Pirags and Roberto Meloni at Aluksne New Castle.
About 6000 people - locals and guests from other regions and other countries - Estonia, Russia, Finland, England etc. attended Aluksne Manor Park Festival.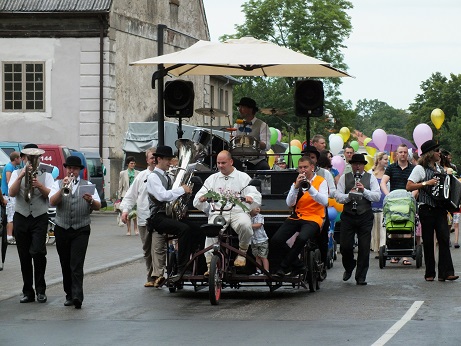 Photo-report of the event can be found at
the website of Aluksne Municipality
Information is prepared by the Project.
Events calendar

September 2023
28
29
30
31
1
2
3
4
5
6
7
8
9
10
11
12
13
14
15
16
17
18
19
20
21
22
23
24
25
26
27
28
29
30
1