HERITAGE BUSINESS: Young entrepreneurs from Estonia, Latvia and Russia presented their products and competed in Värska, Estonia
Conference on 21 November concentrated on actual topics related to entrepreneurship.
The speakers of the event were managers of successful enterprises as well as representatives of a student company. Thematic presentations were covering topics such as marketing of cultural sphere by Ms Katrin Maimik (Siiri ja Viivi LLC), useful hints for young entrepreneurs by Mr Hanno Tomberg (the Chairman of the Board of Enterprise Estonia) and marketing of products and services in different countries by Mr Kuldar Leis (the Chairman of the Board of Premia Foods Ltd.). Success story was shared by student company LUXvalgus from Estonia.
First Cross-border Student Firm Trade Fair on 22 November gathered more than hundred enthusiastic students and 22 student companies from Setomaa (Estonia), Ape municipality (Latvia) and Pechory district (Russia) in Värska Culture Centre.
Youngsters were willing to sell their products, acquire new ideas and experiences, to make contacts with youngsters from neighbour countries as well as to participate in friendly competition.
Products of student firms varied from spectacular self-made handicraft, toys and foods to soap tablets, coffee bar and computer games. Tasty carrot candies, vitamin products, jewellery, fine-looking candles were introduced by Latvian students. National traditions and cultural heritage as well as the usage of recycling in product development inspired many teams. By innovative youngsters from Estonia new life was given to old lace naperies which turned into wall clocks, old fur coats changed into modern mobile phone cases. For cheerful way of learning Seto language bilingual playing cards were developed. National Seto patterns used in practical and attractive souvenirs produced by youngsters from Pechory were greatly appreciated, as well as many other inventive products.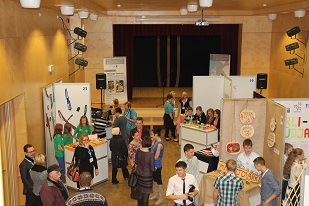 The fair was open to the public and offered possibility for young traders to communicate with numerous customers, introduce their products to audience and make real business.
Positive attention and smart awards given by the jury and provided for the event as additional support from the Programme – iPads and smart phones, enthuse young entrepreneurs to continue development of their ideas, products and marketing strategy and to learn from acquired international experiences.

Student firm "The Style of Seto" from Pechory (Russia), producing souvenirs with traditional Seto patterns, was certified as the best student company, the student firm "Any Vitamine?" from Ape (Latvia) with berry jams and dried fruit was awarded as the best mini company and "PitsiAEG" from Põlva (Estonia) got the prize in the category "best product" for wall clocks from old lace naperies.
Full list of awards by the jury.
Enjoy full gallery of the event!
The event was reported on Estonian TV, the news can be viewed
HERE
.
Event was organised in frame of Estonia-Latvia-Russia CBC project "Promoting the use of cultural heritage and resources in product development in border areas" (Heritage Business). Total cost of the project is EUR 932 389.00, co-financing by Estonia-Latvia-Russia CBC Programme is EUR 839 147.00.
The project "Heritage Business" was selected as a 
Flagship project of the Programme for the European Cooperation Day 2014.

Project
PORTFOLIO
.
Events calendar

December 2023
27
28
29
30
1
2
3
4
5
6
7
8
9
10
11
12
13
14
15
16
17
18
19
20
21
22
23
24
25
26
27
28
29
30
31