ECDay: For the second time ECDay QUIZ joined project partners and students of ST. Petersburg Transport University
On 23 September the Project "Logistics and Overland Transport Network for Training "Blue Collars" (LogOnTrain) celebrated European Cooperation Day in Petersburg State Transport University, St. Petersburg, Russia.
During the event the students of the university were given a lecture and took part in a QUIZ about European Union
.
The lecture was given by Mr Igor Kabashkin, Dr.hab.sc.ing, professor of Transport and Telecommunication Institute and also the President of Latvian Transport Development and Education Association in Riga, Latvia. The subject Mr Kabashkin spoke about was
"European Strategy for the Development of Transport and Logistics in the Baltic Sea Region till 2050",
which is essential and relevant for the students of Transport University.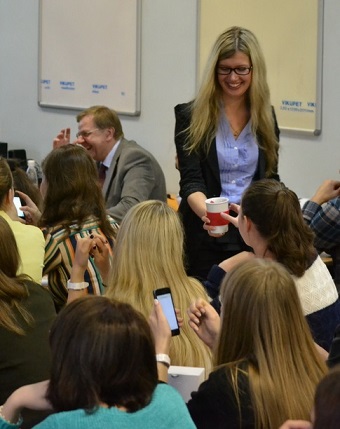 The QUIZ was taken very actively.
The most enthusiastic participants of the quiz were awarded with nice ECDay souvenirs from the Programme
. The QUIZ in presentation form is placed at the project website where everybody can
try and answer the questions
and view
the full gallery
of the event.
The Project LogOnTrain already for the second time takes part in the ECDay celebrations. Last year ECDay QUIZ was also a great success, reported at the ECDay website
www.ecday.eu
.
Reflections and galleries of the event can be found at the
Programme website
and
Project website
.
Events calendar

December 2023
27
28
29
30
1
2
3
4
5
6
7
8
9
10
11
12
13
14
15
16
17
18
19
20
21
22
23
24
25
26
27
28
29
30
31