"EstRusFortTour-II" Project wins the Special Audience Award
The second tour of the Photo competition of the ENPI Programmes "Put your project in the picture!" is over. On 1 August after a week of active voting the Special Audience Award was given to the picture by the Project "EstRusFortTour-II" implemented within the Estonia-Latvia-Russia CBC Programme.




As a reward the picture will be included in the EU Neighbourhood Info Centre photo exhibition, "Faces of the Neighbourhood", in Brussels (Belgium) at the Info Point Schuman in September/October.
The Faces of the Neighbourhood exhibition will show the human face of EU cooperation with its Southern and Eastern Neighbours, illustrating concrete activities that derive from a major EU external relation policy.

The winning picture shows an event to mark the opening of renovated facilities at the Ivangorod fortress in Russia.

Two other pictures submitted to the competition by the Project were as well much liked and voted for.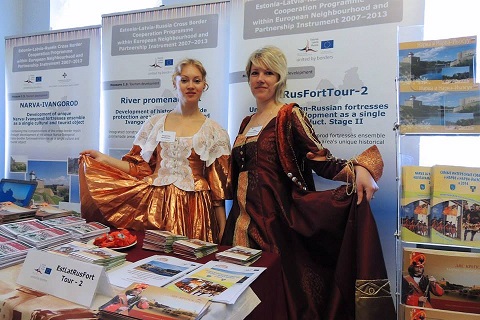 To read more about the project please visit the Project website

We would like to thank the Projects GREEN HERITAGE and E-ARCHIVE which also took active part in the competition.
Events calendar

June 2022
30
31
1
2
3
4
5
6
7
8
9
10
11
12
13
14
15
16
17
18
19
20
21
22
23
24
25
26
27
28
29
30
1
2
3